Main content starts here, tab to start navigating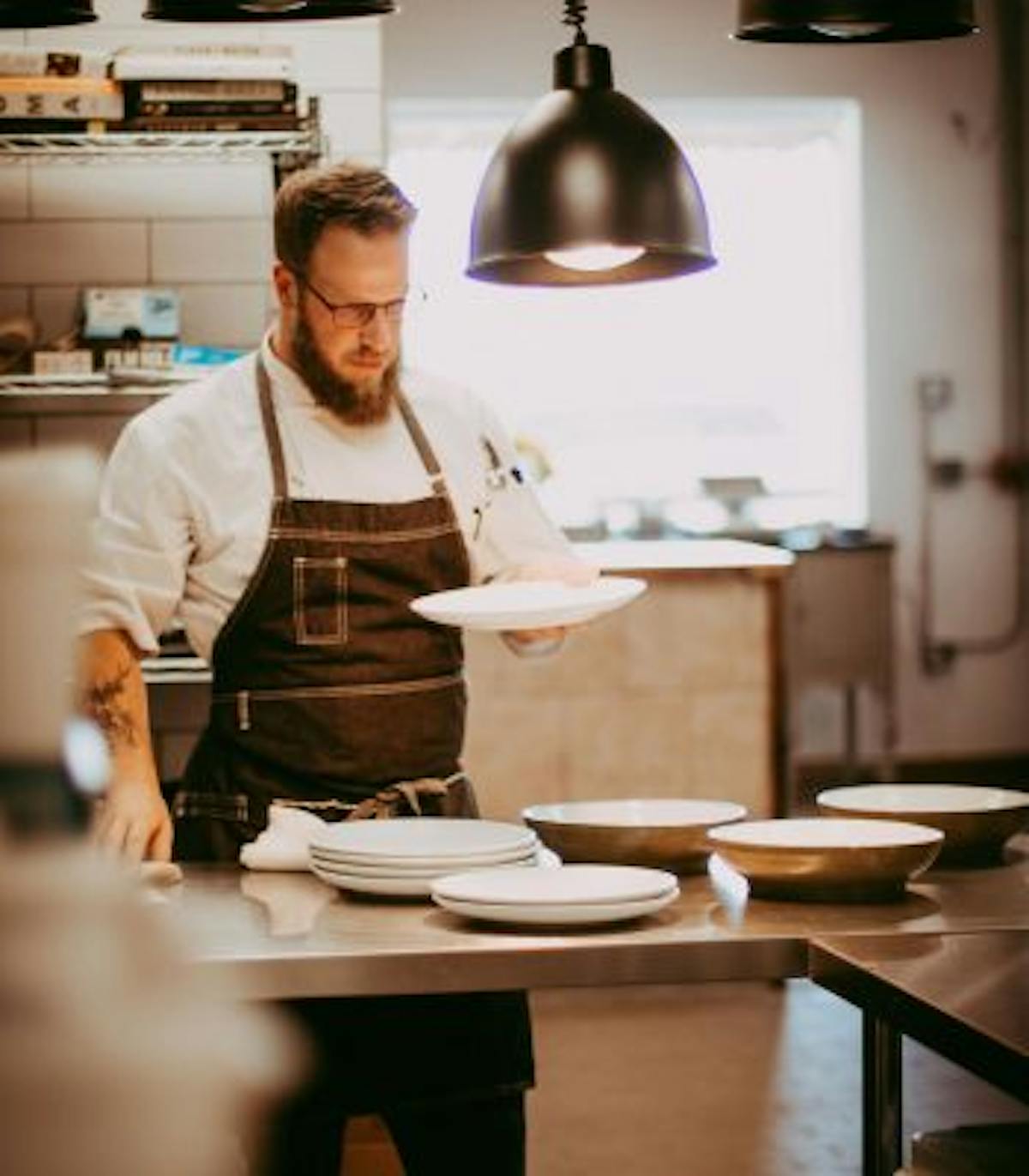 Payne Mills
Owner/Chef
Chef Payne Mills was born and raised in Edmond, Oklahoma. Small town life suited Chef Payne as he spent every opportunity he could going to his grandparents house, and getting lost in the woods on their property in East Edmond. It was here that Payne developed a love and respect for the beauty of all things outside. He would pick Mulberries, honeysuckles, and edible greens, as well as learn to trap and hunt wild game. Payne loved sharing the food he "foraged" with his grandparents, and listening to his grandmother, Ruby, and grandfather, Don, tell stories of their childhood and reminisce of the food and large family meals they gathered around. These memories fostered Payne's love for cooking and the desire to create memorable meals for others to be inspired by.
Chef Payne graduated from Edmond North High School and went to Francis Tuttle, before moving to Livonia, Michigan to attend Culinary Arts program at Schoolcraft College. It was here that Payne studied and trained under Certified Master Chefs CMC Daniel Hugelier, CMC CMB Jefferey Gabriel, CMPC Joseph Decker, CMC Kevin Gawronski, CMC Shawn Loving, and Chef and foremost expert on Charcuterie, Brian Polcyn. After finishing his culinary arts degree, Payne traveled to Switzerland to study pastries and baking under European master bakers. Shortly after returning from Europe, Chef Payne helped open Vast, as the opening Sous Chef and worked at the Oklahoma City Golf and Country Club. After marrying his wife Rachel Mills, baker/owner of I's Bakery, in 2014, the two moved back to Michigan to help salvage a scratch Italian restaurant needing new life, as well as a Japanese fine dining restaurant.
When Chef Payne's family started the vision of Farmer's Grain, he and Rachel decided it was time to come back home to Oklahoma, and share his love for good food with the community of Edmond.
Currently, Payne and his wife reside in Luther, Oklahoma, where they own a small farm. Together, Payne and Rachel have made it their mission to grow happy animals, free of chemicals and hormones. "Homesteading" has become their hobby and passion, out of a necessity due to family food allergies, and most of all because of their love for their farm. "There is nowhere else on earth we would rather be, then feeding our chickens, milking our goats, and watching our pigs grow to be fat and happy!"-Chef Payne
It is Chef Payne' desire to run an educational kitchen where: good food, the growth and happiness of his staff are his priorities.